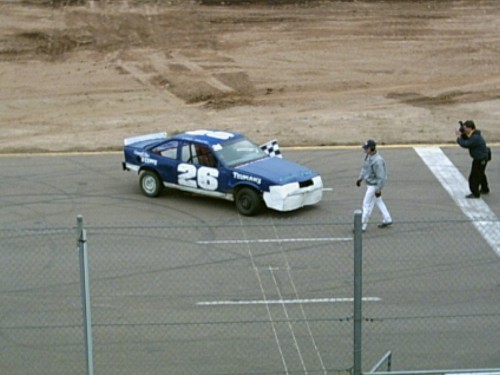 2005 would see me come back with the same car from 2004, but with a slightly different look. A front nose sheet metal was added, along with the sponsorship of Truman's Tavern on Mountain Road, Moncton. Coast Tire Dieppe stayed aswell, but Bawls and Cowbalt.com left due to financial difficulties.

As you can see, the left side (driver's side) of the car is blank of any numbers. After stretching out the car to fix the damage from 2004, and replacing the door, we had little time to actually paint it, so we just went with what we had.

In the 9th race of the season, I got caught up in a wreck, which wrote off my car. It was very depressing, but it wouldn't be the last we'd be heard of for 2005.

If you look on the left, you'll see a car with a familiar white bumper. That is the new #26 car. Formely the #60 of Kevin Skerry. It took us only 2 weeks to get the new car ready.

In just the first 9 races of the season, I had 6 first place finishes, 2 second place finishes, and then...............

The wreck took out myself, Mark Ramsay in the #22, Aurelle LeBlanc in the #01, and the #44. It wasn't a soft hit either, as all 4 of us hit the turn 2 wall.

As you can see, it didn't take long to pick up where we left off. We finished the year with 2 more feature wins, we won the second North South invitational by edging out the #74 by only half a car length, several heat and semi wins, several 2nd's and 3rd places feature finishes, and finishes the year 2nd in the overal championship points.
Thanks for visiting my web site!
Sponsors:
* Means not confirmed for 2006 as of yet.
Coast Tire Dieppe
95 Therese Street
Dieppe, New Brunswick, Canada
506-859-8818
Gaudet Chalets & Motel
14 Bellevue Heights
Shediac, New Brunswick, Canada
506-533-8877
Gaudet & Fils Supermarche
(Gaudet & Son Supermarket)
Grand Barachois, New Brunswick, Canada
506-532-2823
Boudreau Service Station
Royal Road, Memramcook
New Brunswick, Canada
506-758-2470
*Kioti Tractor
33 chemin Breau Creek
Memramcook, New Brunswick, Canada
E4K 2J3
506-758-2955
Powers Team Racing
556 Royal Road
Memramcook, New Brunswick, Canada
506-854-2919
506-758-2523